3D simulation models test PLC software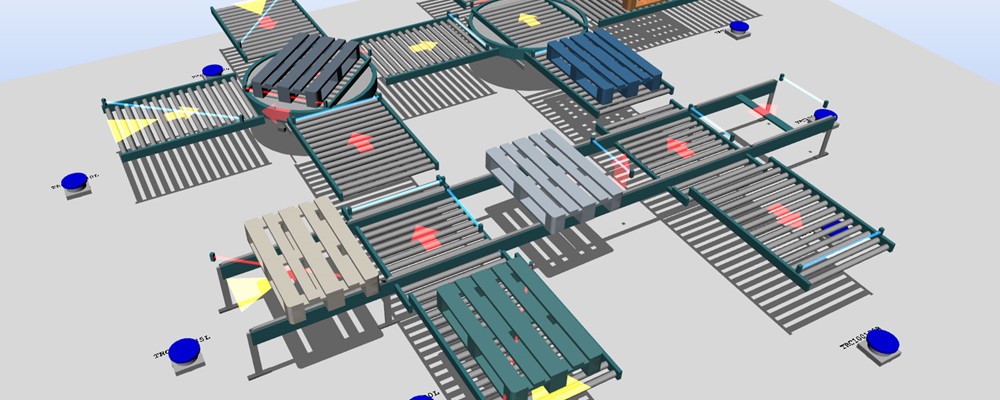 Modern 3D engineering technology and tools today make it possible to build, visualize and test complex machine designs in a virtual environment. A so-called Digital Twin of the physical machine or plant layout. The model is built as a 1: 1 electromechanical equivalent with built-in physical properties such as frictions, speeds and accelerations.
The electromechanical 3D model is today a completely natural and indispensable part of many of our automation projects, where the model is connected to the PLC system and simulates the electromechanical physical reality. In such a setup, we can, without the need for the actual physical machine, test PLC software functions and quality to a level that one would otherwise only achieve much later in the process.
Use of 3D models through the entire lifecycle of your machine 
3D models can be used to advantage right from the initial sales- and design phase, through the project execution, as well as the subsequent operational period where the machine or plant is operated at the end customer. .
We use 3D models for:
Virtual mockups in the design phase create quick understanding with the customer and the desired functionality
Proof of concept before PLC software is multiplied to an entire construction section

Virtual commissioning and testing of the total PLC control delivery

Virtual system integrations and interface testing against external control deliveries

Virtual FAT in collaboration with the customer, prior to actual activities at the physical facility
Virtual SAT in collaboration with the customer, prior to actual activities at the physical facility
Even after implementation and the handing over of the system to the customer, the model can prove valuable. New needs often arise and existing plants are rebuilt and modified. In these situations, it is valuable to adapt the digital twin and test new features and concepts prior to the actual remodel in production.
Value creation and benefits of using digital twins
There are, in our opinion, many good reasons to consider whether your next automation project should also include a 3D digital twin.
Just to name a few benefits:
Reduces time to market, as software development and testing can take place in parallel with the mechanical and electrical engineering and installation
Increases the quality of the overall software delivery and ensures high operational stability from the first day of production
Increases the skill level before onsite activities begin -> Reduces onsite costs.
Possible to test capacity, throughput and bottlenecks before the physical production is ramped up
Want to know more about 3D digital twins & virtual commissioning?
If you want to hear more about digital twins and virtual commissioning, we are readily available for a non-binding talk about your next automation project.
Please contact Paul Robert Warming, Manager DK AU2MATION, at prw@dkau2mation.nu or +45 61 48 32 42.