Interaction and integration of IT & OT systems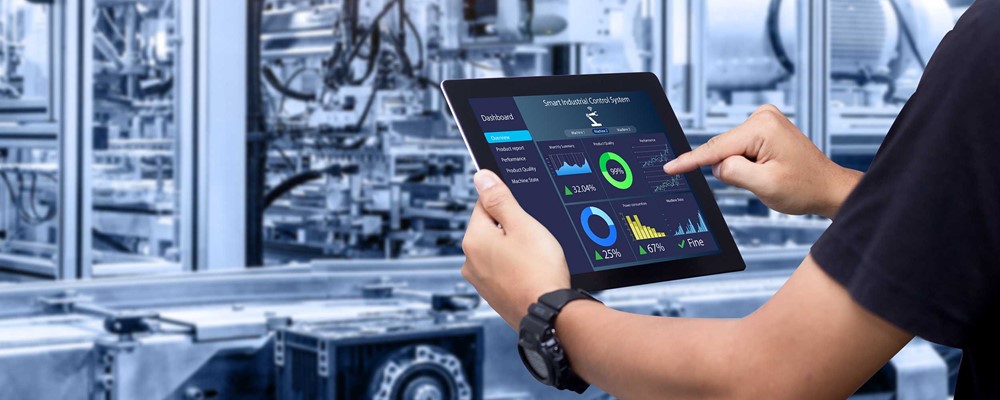 Still more automation tasks require a close interaction between IT and OT systems (InformationTechnology / OperationTechnology). At DK AU2MATION, we specialize in effecting a solid interplay between operational automation systems, machine controls and the overarching IoT, ERP, prescription or batch system.
We have extensive experience in communicating with many diverse PLC systems and brands and through this obtain machine-friendly production information and data. This data is processed and refined for further analysis and visualization, according to your exact wishes and needs.
We are happy to develop customized mobile apps and a SCADA or web plugin, just as we can store your raw data directly in a cloud-based database. There are many options and the choice is yours, but of course we advise you all the way.
Customized software applications
We have extensive experience in processing, analyzing and visualizing machine and production data. Together with you, we find carefully selected data and measurement points, which provide valuable information about your particular machine, plant section or the total production.
We work with Microsoft certified partners with extensive experience and knowledge.
We specialize in
.Net
.Net core
C#
Java
C++
HTML5
Angular
Typescript
CSS
MVC
SQL
We solve and take on tasks such as:
Integration of complete MES solutions in production
Integration of your production equipment with the ERP, prescription or batch system
Production optimization and OEE analyzes
Digitization of manual work processes
Let us discuss your next digitization project
If you want to learn more about our software competencies and customized mobile apps, SCADA and web plugins and cloud-based databases, we would very much like to invite you to a non-binding talk about your next digitization project.
Please contact Paul Robert Warming, Manager DK AU2MATION, at prw@dkau2mation.nu or +45 61 48 32 42.