iLOQ Locking system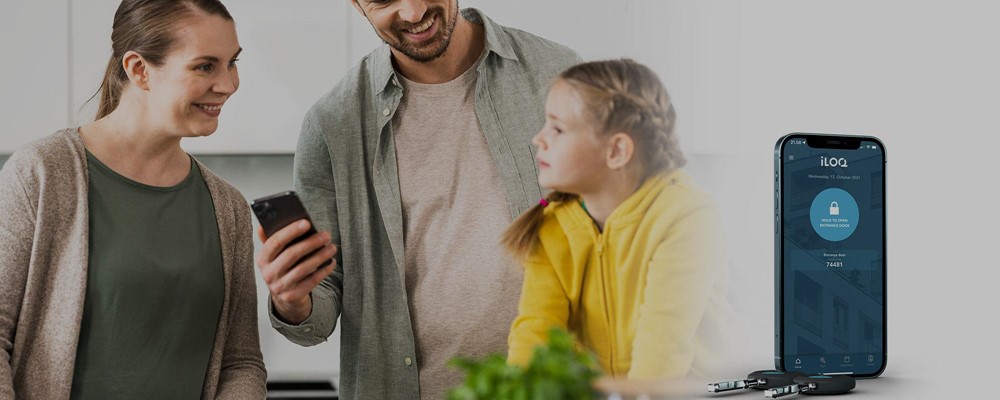 The iLOQ 5 Series is the world's first battery-free digital locking system and NFC-powered mobile access solution. The locking system is designed to maximize security, minimize administration time, reduce costs and increase the value of your buildings.
No matter what type of property or building you manage, and no matter what challenges with locking and access management you face, the iLOQ 5 Series offers a reliable and cost-effective solution.
With the iLOQ 5 Series you can easily choose which "key" you want to use:
A digital iLOQ S5 key
An iLOQ S50 mobile phone key with NFC technology (iOS or Android)
An electronic iLOQ S50 key
An iLOQ S5 RFID key or even a PIN
The choice is yours. And of course, as for all iLOQ solutions, there is no need for batteries or many cables.
Digital iLOQ S5 locking system
Ideal for industry and residential and commercial properties.
The locks are powered by kinetic energy generated when the key is inserted - no need for batteries or cables.
The cylinders are easy to install and fit in all modern lock cases without adjustments.
The product family includes, among other things, comb locks, padlocks and installation equipment.
Reduced maintenance costs and no battery waste.
iLOQ for residential properties
The iLOQ 5 series means that the security of apartments, stairwells and common areas is continuously maintained at the highest possible level. The system is easy to install and manage and inexpensive to maintain. iLOQ solves issues caused by lost keys, unauthorized copying of keys, expiration of patents and misuse of common areas.
iLOQ for industry
Industrial companies regularly face the challenge of managing several sites with a large number of locks and staff. This has traditionally meant a large number of keys in constant circulation. The iLOQ 5 Series has eliminated the need for physical keys. Only one smartphone is needed to open any lock in the system. Access to all sites can be given and managed easily with the iLOQ 5 Series cloud-based software. Day-to-day operations are easier, the highest levels of security are maintained, and valuable time, resources and costs are achieved across small, large and huge organizations.
iLOQ for commercial property
The iLOQ 5 series is a locking system based on strong digital authentication - a perfect solution for buildings with a large flow of people and several layers of security. The solution improves the efficiency of access control on doors that have previously had mechanical-based locking and access control systems. In addition, the system can be easily extended to a remote-controlled, lightweight and convenient access control system that is capable of handling large amounts of access rights under a common user-friendly platform.
Permanently high level of security
iLOQ S5 ensures a permanently high level of security, as both locks and keys are fully programmable. Access rights are controlled with a user-friendly cloud-based software, with active graphical user interface that shows the location of locks on floor plans. Locks and keys are easily updated via a programming device or  iLOQ Hotspot,that is also used when logging in to the cloud-based software for optimal security. Thanks to the portable programmability, locks can be installed before a renovation project and re-programmed continuously with the project's progress, and finally only provide access to desired users.
The iLOQ 5 Series has been tested and approved by security organizations.
iLOQ S5 keys with strong encryption cannot be copied.
The access rights for lost, stolen or non-returned keys can be quickly removed from the system at no great cost and reissued.
There is no need to replace or recode any locks or replace keys that are still in use.
Administration is simplified and costs are minimized.
The lock cylinders create an access log that shows every time someone tries to unlock.
Abuse of common areas can be monitored and access rights to the keys in question removed.
The highest possible level of security is maintained throughout the property.
The iLOQ system is completely independent of batteries and mains and therefore reliable.
The iLOQ S50 combines security with efficient wireless access sharing.
Simplified logistics and reduced costs enable companies in the utilities sector to focus on getting our modern society running smoothly.
Smarter, simpler administration
The administration of both the solution based on a digital key and the mobile phone-based solution is handled by a flexible, scalable and user-friendly platform. The state-of-the-art communication between devices allows a huge amount of data (for instance access rights, time limits, lists of blocked keys and log events) to be remotely updated and quickly shared between readers, keys and locks in a building before the door is unlocked. This eliminates the need to manually import or export data to on-site locks and keys, minimizes system cabling costs, and reduces lifetime costs.
Want to know more about the iLOQ Locking System?
Get a free review of your business' needs and a no-obligation quote on the world's first battery-free digital locking system.
Please contact Michael Kronborg, department manager at Safety & Security, at mkr@dkel.nu or +45 25 24 74 31.